Connect to GitHub account
You can import your source code from your GitHub account. Both public and private repositories could be imported from your account on GitHub. To do that you need to connect your Doprax account to your GitHub account. Go to the account section (https://www.doprax.com/account/) and click on the "connect to github" button.

You will be directed to the GitHub website to authorize doprax to access your repositories. If you are not logged in, you will be prompted to log in to your GitHub account, and then you will be shown the authorization page. It will look like the image below. Click on authorize dopraxcom to continue.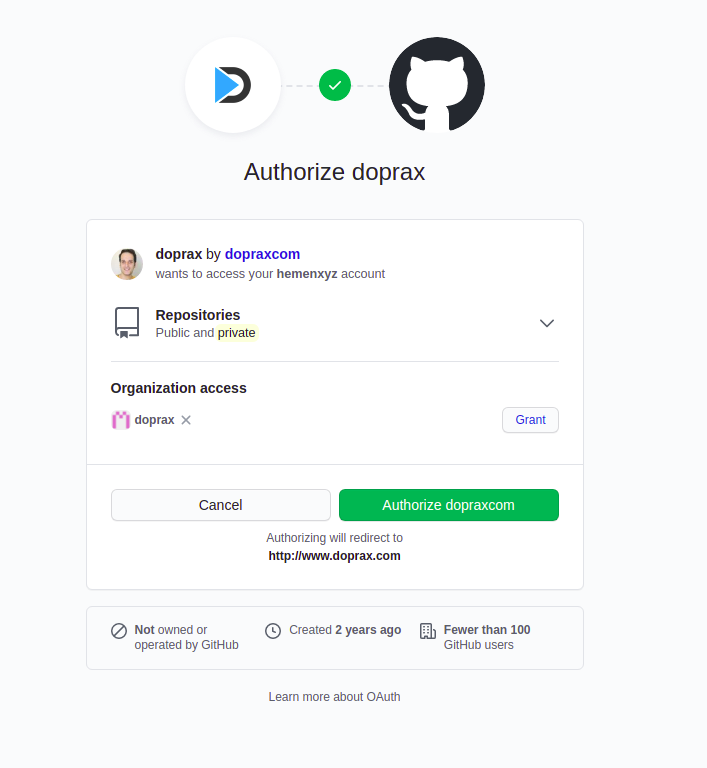 You can always manage authorization settings from your GitHub account settings section (https://github.com/settings/applications). Now your doprax account is connected to your GitHub account.
Import source code from GitHub
You can import any repository in your GitHub account as the main source code. Go to your project's main page and click on the import from GitHub button in the source code section.
Disconnect your GitHub account
To disconnect your GitHub account you need to go to the account page on Doprax and click on Disconnect from GitHub. You will be directed to the GitHub website, the authorized OAuth apps page. There you can click on there you will see Doprax and by clicking on three dots and clicking Revoke, you can disconnect your GitHub account.
Please do tell us, did you find the content above helpful?
Let us know if you liked the post. That's the only way we can improve.